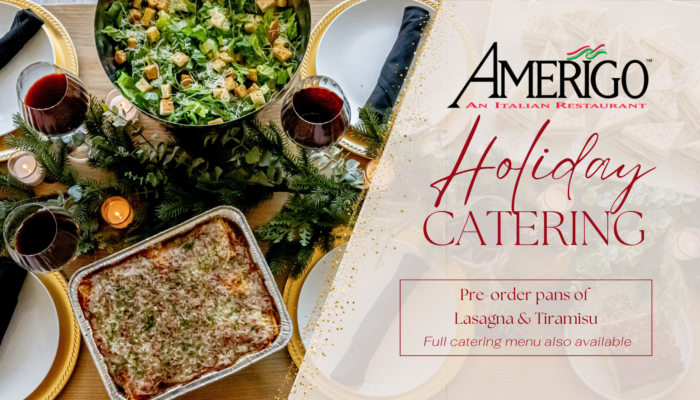 We're accepting orders for family-style servings of your favorite Amerigo salads, pastas and desserts to pick up for your seasonal celebrations! The full catering menu is available to order from all season long; pans of Lasagna and Tiramisu are available to pre-order for pickup the weeks of Thanksgiving and Christmas. Please allow 24 hours notice for all orders.
LASAGNA: half pan $90 (feeds 8-10) // whole pan $180 (feeds 16-20)
Available hot or cold.
TIRAMISU: half pan $55 (feeds 8-10) // whole pan $115 (feeds 16-20)
Available thawed or frozen, un-cut.
THANKSGIVING ORDERS:
Pre-order by 5pm on Monday, November 20th to pick up by 5pm on Wednesday, November 22nd
CHRISTMAS ORDERS:
Pre-order by 5pm on Thursday, December 21st to pick up by 2pm on Sunday, December 24th
FAMILY STYLE CATERING
Bring Amerigo to your next meeting, celebration, or special event! Family-style salads, pasta, lasagna, and house-made desserts are available for curbside pickup or delivery for groups of 8+. All catering orders include complimentary house-made focaccia bread with olive oil & herbs. Plastic plates, cutlery and cups are available upon request. 


Individually boxed meals are available for an additional fee of $1 per person. A minimum of 8 guests is required to order and you may choose a maximum of 2 entrees per order for individually boxed meals.
Prices exclude tax and gratuity. A standard 8% gratuity will be added to pickup orders of $250 or more; gratuity on delivery orders is dependent on order size. Our Sales Manager will assist you with the ordering process to help you stay within your budget parameters. We look forward to working with you on your upcoming event!