Start : December 5th 2023 at 6:30 pm
End : December 5th 2023 at 9:00 pm
Location : Amerigo Restaurant
---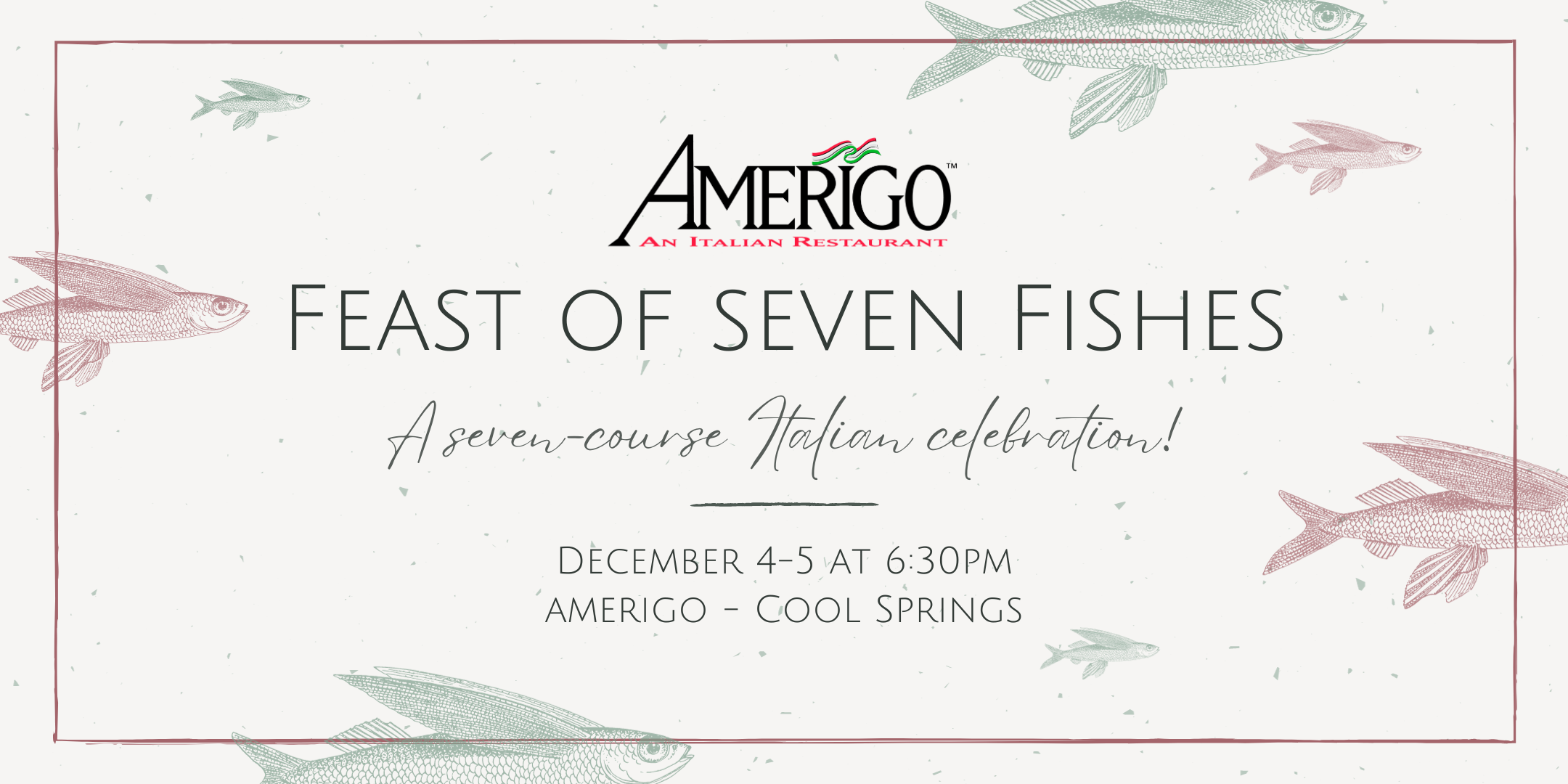 We are excited to announce the return of our annual holiday Italian celebration! The Feast of the Seven Fishes is part of the Italian-American Christmas Eve celebration – a feast that typically consists of seven different seafood dishes. It originates from Southern Italy, where it is known as The Vigil (La Vigilia). Some Italian-American families are known to celebrate with nine, eleven or thirteen(!) seafood courses, though we're sticking to seven here at Amerigo.
On December 4th & 5th, Chef Steven Robilio will host a seven course dinner at our Cool Springs location with curated wine pairings for each course. Guests will be seated family-style in our private dining rooms for an intimate evening of delicious food and wine. Dinner begins promptly at 6:30pm.
For guests with dietary restrictions, please contact us at the restaurant directly at least 72hrs prior to the event so that we can best accommodate you.
The ticket price is $120 per person and includes dinner, drink pairings, tax, and gratuity. Cancellations may be made up to 72hrs in advance to avoid a cancellation fee of $30/ticket; Eventbrite fees are non-refundable.
>> BUY TICKETS HERE – DECEMBER 4TH <<
>> BUY TICKETS HERE – DECEMBER 5TH <<
---
Trout
smoked, dill, pickled veggies, arugula, chili
Shrimp
chowdah, bacon, corn, crispy shrimp
Scallop
sweet potato, kale, cranberry, seafood lemon butter
Lobster
ravioli, tomato, herbs, lemon
Snapper
beets, carrots, cabbage, chive foam
Swordfish
truffle risotto, sauce beurre rouge
Chocolate Panettone
lemon whipped cream, chocolate drizzle
**Menu items are subject to change based on availability. We look forward to celebrating with you!