Start : October 25th 2017 at 6:30 pm
End : October 25th 2017 at 9:00 pm
Location : Amerigo Italian Restaurant - Nashville
---
Each month, Chef Steven Robilio heads out to the Franklin Farmer's Market to select the freshest ingredients he can find, and prepares meals for three seatings of our flagship Farm Dinner Series. The menu changes each month to feature the flavors of the season, so there's always a new lineup of delicious dishes to enjoy!
This month's dinners are hosted at our Cool Springs location October 23rd and 24th, and at our Nashville location October 25th.
Each course is paired with wine or craft cocktails for guests seated family-style in our private dining rooms. We present each course and pairing to the guests for an interactive dining experience, and we encourage questions for the chef!
This month's menu is as follows:
1st Course: Pumpkin Soufflé
Twice baked, asiago, arugula, pickled pumpkin, pumpkin cream
2nd Course: Sausage & Kale Soup
Tomato, fennel, carrot, fried garbanzo beans
3rd Course: Fall Vegetable Risotto
Market vegetables, fennel broth, Parmesan
4th Course: Braised Bear Creek Beef
Whipped Yukon gold potato, braising vegetables & jus
5th Course: Pumpkin Pie
Spiced pecans, pumpkin whipped cream, salted caramel
Items on the menu are subject to change, and are based on availability of items at the Market.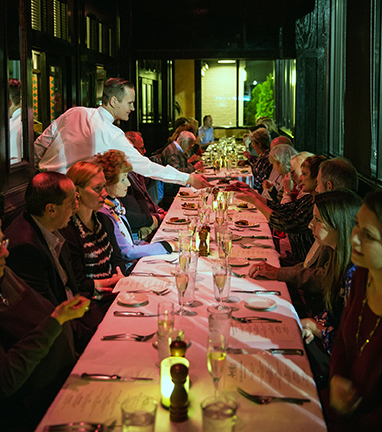 The cost is $50 per person, plus tax & gratuity. Reservations are required with a credit card number. Cancellations made within five days of the event are charged $30 per person.
Dinner begins promptly at 6:30pm.
We look forward to sharing an evening of delicious food & wine with you! To reserve your spot, call 615-320-1740 (Nashville) or 615-377-7070 (Cool Springs).