Start : June 28th 2017 at 6:30 pm
End : June 28th 2017 at 9:00 pm
Location : Amerigo Italian Restaurant
---
Each month, Chef Steven Robilio heads out to the Franklin Farmer's Market to select the freshest ingredients he can find, and prepares meals for three seatings of our flagship Farm Dinner Series. The menu changes each month to feature the flavors of the season, so there's always a new lineup of delicious dishes to enjoy!
This month's dinners are hosted at our Cool Springs location June 26th & 27th, and at our Nashville location June 28th.
Each course is paired with wine or craft cocktails for guests seated family-style in our private dining rooms. We present each course and pairing to the guests for an interactive dining experience, and we encourage questions for the chef!
This month's menu is as follows:
1st Course: Beef Tartare
Caper, onion, parsley, smoked salt, quail egg, pretzel crostini
2nd Course: Coconut Shrimp
Peach & tomato relish, chili, Benton's bacon
3rd Course: Spring Green Salad
Caramelized peaches, slow-roasted herbed tomato, feta, radish, spiced pecans, peach & white balsamic vinaigrette
4th Course: Beef
Summer vegetable gratin, potato, creole demi glace
5th Course: Roasted Peach
Brown butter, peach gelato, candied walnuts
*Please note menu items are subject to change based on availability from the market.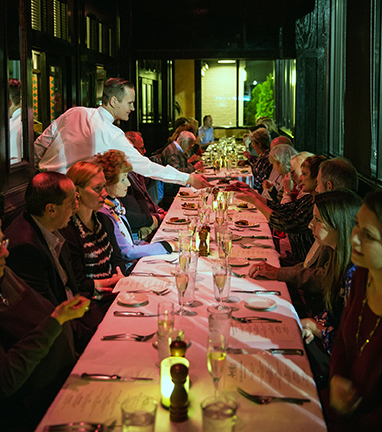 The cost is $50 per person, plus tax & gratuity. Reservations are required with a credit card number. Cancellations made within five days of the event are charged $30 per person.
Dinner begins promptly at 6:30pm.
We look forward to sharing an evening of delicious food & wine with you! To reserve your spot, call 615-320-1740 (Nashville) or 615-377-7070 (Cool Springs).