Start : November 5th 2019 at 6:30 pm
End : November 5th 2019 at 9:00 pm
Location : Amerigo Italian Restaurant
---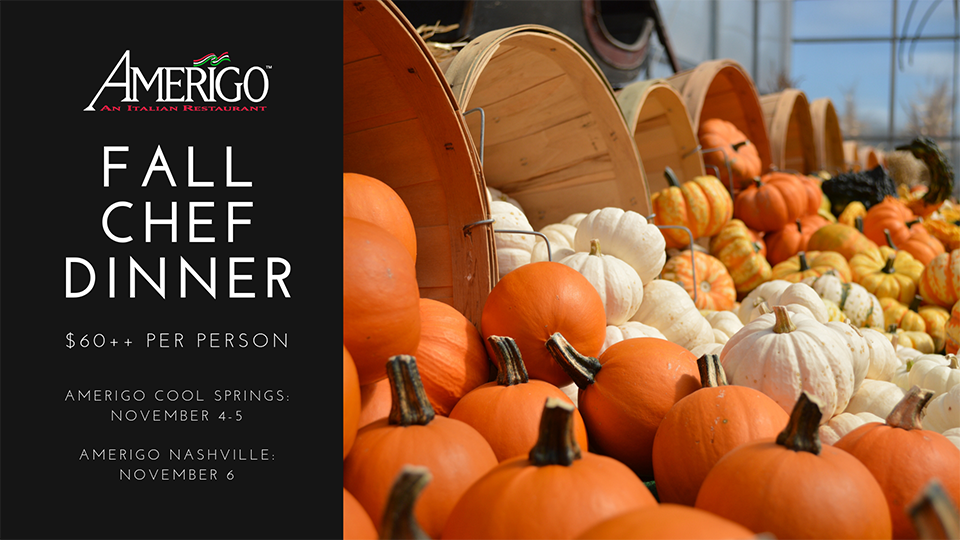 We are excited to announce the long-awaited return of Chef Steven Robilio's seasonal chef dinners! Just in time for our favorite fall flavors, Chef Steven will be hosting an autumn inspired chef dinner at both locations. The five-course dinner will be paired with wine and/or cocktails to highlight fresh seasonal fruits, veggies and spices from the farmer's market.
Guests are seated family-style in our private dining rooms for the interactive dinner. Course by course, Chef Steven explains the ingredients and inspiration behind each dish while our Beverage Manager presents the drink pairings. Questions for the Chef are encouraged!
This month's dinners are hosted at our Cool Springs location November 4th & 5th, and at our Nashville location November 6th.
---
The menu for this month's dinner series is as follows:
1st Course: Apple & Fennel
Grapefruit, lime, jumbo lump crab meat, chili
2nd Course: Butternut Squash Soup
Cinnamon cream, chili oil, sage oil, crispy parsnip
3rd Course: Fall Red Wine Risotto
Fall herbs & spices, pumpkin, Grana Padano Parmesan
4th Course: Braised Short Ribs
Polenta, baby carrots, grilled broccolini, braising jus
5th Course: Maple Cheesecake
Caramelized apples, vanilla shortbread, caramel
---
Tickets are available to purchase through Eventbrite.  Ticket price includes dinner, drink pairings, tax and gratuity. Cancellations are accepted up to seven days in advance to the event. Please note: we are no longer accepting reservations via phone; all tickets must be purchased in advance.
Dinner begins promptly at 6:30 pm. We look forward to sharing an evening of delicious food & wine with you!