Over the last several years, we've developed a great tradition here at Amerigo, and all you have to do to be a part of it is to make a reservation. Between the months of February and October, Chef Steven Robilio offers up some of the finest cuisine packaged into a five course meal, perfected with wine and drink pairings.
Chef Steven believes in supporting local farmers and growers. Over the last six years, we've been proud sponsors of the Franklin Farmers Market. Through this partnership, Chef Steven has cultivated relationships with some of the area's best farmers.
Each month, Steven visits the Market to source the freshest veggies, fruits, meats and cheeses for our flagship Farm Dinner Series. He creates a unique menu highlighting the flavors of the season to showcase the farms' current selections, which are available to purchase at the weekly Market on Saturdays.
We frequently feature produce from Delvin Farms and Coffey Family farms, as well as meats and cheeses from some of the premiere producers in the greater Nashville area: Bear Creek Farms and Noble Springs Dairy. The finest ingredients are incorporated into a delicious five-course menu, then paired with wine and cocktails for an unforgettable dining experience.
Each of our Middle Tennessee locations host the monthly dinners in our private dining rooms, painstakingly arranged with large banquet tables, family-style seating and a warm atmosphere. That is how every chef dinner begins. We plan on delighting you and your senses, and you won't be disappointed.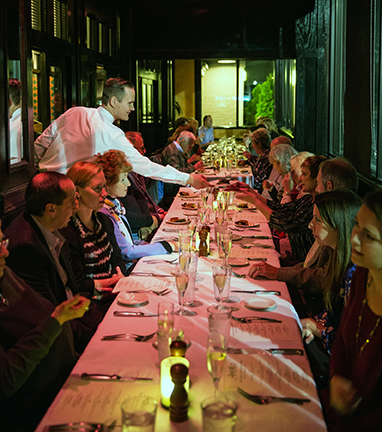 Upon seating, the first drink is placed in front of each guest as Chef Steven enters the room accompanied by our Beverage Manager. After a brief introduction, Steven presents the first course, explaining the ingredients and inspiration behind each dish, followed by a brief description of the paired libation. Moments later, the first course is served.
Course by course, guests are presented with Steven's creation and subsequent drink pairing. Dinners typically include a light starter, a soup (either chilled or heated, depending on the season), a pasta or risotto dish and a hearty meat or seafood course. After the fourth course, the chef returns with a smile and a thank you for attending, then he returns to the kitchen for one final composition; a dulcet and creative dessert and aperitif combination to act as the finale to the dining event.
Our Chef Dinners are always a great night out with that special someone, or as a night of fine food and fun with a group of your closest friends. No matter what, come prepared to make new friends that are just as passionate about food as you are.
The menus are typically announced via our website and Facebook page two weeks prior to the scheduled event. To view the details on our upcoming dinners, visit the events pages via the links below: